From WSDATA to Quick-FDS in just one click!
SDS transfer and hosting
Safety Data Sheets (SDS) prepared using WSDATA can be provided instantly to your clients using the Quick-FDS system : the leading solution for the regulatory distribution of SDS.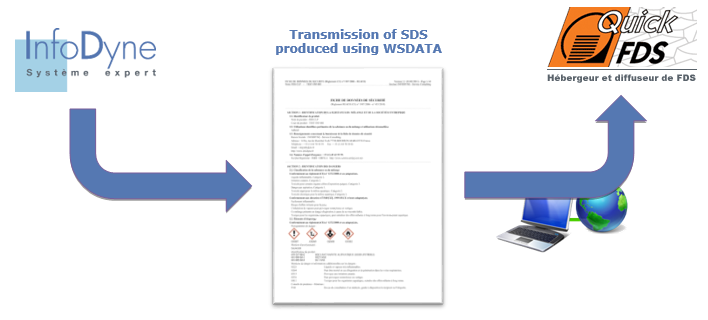 Automatic distribution of SDS created by WSDATA to QUICK-FDS with one click, including updates.
Automatic selection of the SDS to be sent (batch processing).
Allows dynamic modification of section 1 of the SDS (trade name, reference, another company name, poison centre, etc.) including a personalised logo.
SDS can be viewed in PDF and/or HTML format with a web browser.
Full graphic integration in your website or intranet or access via the www.quickfds.fr portal.
Fine management of access rights to SDS.
High availability servers : your SDS are hosted on two geographically separate sites with switching between servers if necessary.
Automatic mail or fax gateways in order to serve clients not connected to the internet as required by the law, in response to requests or linked to orders.
Traceability and archiving of the SDS that are consulted : dynamic date and time stamping of all documents consulted, distributed or published on-line. Archiving in accordance with NFZ42-13 : litigation as to which version was transmitted is no longer possible.
Automatic regulatory alerts for major modifications to SDS irrespective of the media used to distribute them.
Solution chosen by major purchasers for the reception of supplier SDS (retailing, construction, automotive, manufacturing...).
Gencode management for your retail sector clients
Already widely used by over 400 companies, multinationals or SMEs (names available on request).