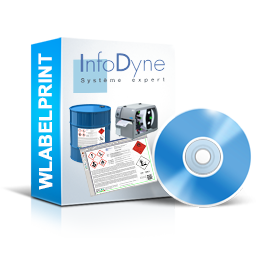 WLABELPRINT is a programme that, when linked to WLABEL, automatically writes label templates and prints multi-lingual labels.
WLABELPRINT provides :
Direct use of the label data calculated by WLABEL.


Label printing into over 30 languages.


Creation of label templates by laying out the different fields for the regulatory statements, barcodes (39, 128, EAN13), QRCode and full WYSIWYG on-screen viewing.


Management of hazard symbols for the transport of hazardous goods.


Saving label templates for producing them.


Automatic application of the requirements of the Classification, Labelling and Packaging (CLP) regulation (CE) 1272/2008, GHS and HCS.


Choice of typefaces and pagination with justified, aligned or centred texts. Special character support for some languages.


Automatic label format checking based on page size, required intervals and printer specifications.


Optimisation of the number of labels per page based on the printer settings and required formats.


Insertion of wmf, jpg, gif, bmp format images and frame positioning.


Label generalisation by importing external data (batch no., expiry date, trade names, barcodes, instructions for use, free text, etc.) and placing it directly on label via a link to your ERP software.


It can be installed on a dedicated labelling workstation and on other production sites with access to local or remote data with or without use of a network. Compatible with all 'Windows' managed printers including thermal transfer printers (Tec, Zebra, DataMax, Avery).


Regular maintenance of on-line label production is provided via an automated link to the regulatory expertise.